September 11, 2020, 08:05
All about Mid-Autumn Festival in Vietnam
What is the Mid-Autumn Festival? It's similar like you have the Halloween or Thanksgiving Day. In Vietnam, you have Mid-Autumn Festival, also known as the Full Moon Festival, the Mid-Autumn Festival falls on the fifteen day of the eighth lunar month.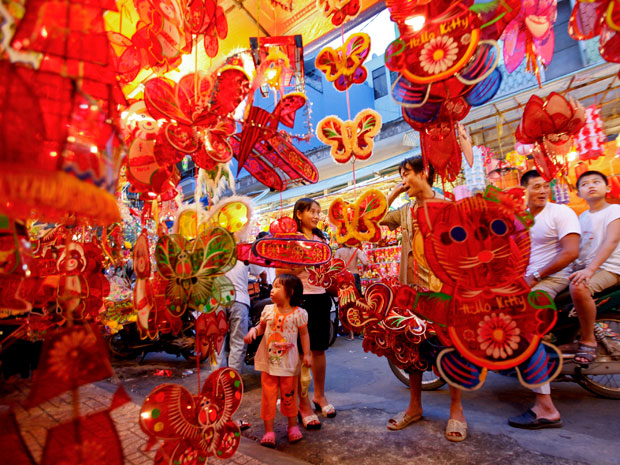 In 2020, the Moon Festival will happen on October 1st .
Every Vietnamese is longing for the day that the Moon is the largest and brightest. Back to the past, the history of this festival was the reimbursement of farmers to their children because they were so busy in harvesting and did not have enough time for little children. So after finishing the farm season, they organized a festival to spend time and give their children lovely gift. Another meaning of this festival is to thank God for a successful season.
In traditional, during the night of the festival, the children will have the party at their home. They could invite some neighbour friends or cousins. Then they share the moon cakes, candies. They also get the small gifts from parents such as star lights, monk lamps, toy figurine… After the party, they will see the mid-moon with beautiful moonlight.
Nowaday, the children are more interested in games on smart phone, that's true! However, you still could see many of them on motorbikes with their parents, laughing and looking around curiously in the Full moon night.
For foreigners in Hanoi, this is also the best time in a year for fruit fans, especially exotic local fruits which are at their best quality in the autumn. One of the most famous delicacies of Hanoi, green rice flakes (com) are also believed to be the yummiest in this month. Besides fresh food, moon cakes should be in your must-try list because it is hard to find them around the year but this special time of the year.
Activities foreigners can see or join in Hanoi are unlimited. In the Old Quarter, Hoan Kiem lake or eventually at your town, the streets should be more exciting and noise from the drums and Dragon dancing. If you love the art of making paper animals, you should go to Kim Ngan communal house on Hang Bac Street. If you want to learn making traditional toys, you should go to Dong Lac communal house. At the Heritage House on Ma May Street, you will be introduced to Dong Ho paintings and how to play the game called Tri Uan. The Viet Nam Museum of Ethnology has made a commitment in recent years to offer children traditional mid-autumn festival events.
Those facts are definitely enough to persuade expats hang out and see a colorful Hanoi in the night of brightest moon.